Symbiosis of arts - dance and photography
---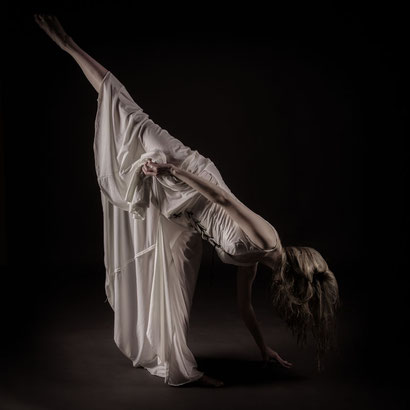 Jeder Moment ist einzigartig und lässt sich so nicht mehr reproduzieren. Vielleicht so ähnlich, aber nicht genauso. Deshalb habe ich die Fotografie als meine Profession auserwählt. Sie ist in der Lage, diesen einen Augenblick festzuhalten und zu dokumentieren. 

Und deshalb passen der Tanz und die Fotografie so gut zusammen. Denn jede Position eines Tanzes ist einzigartig und so nicht wiederholbar. Zwar lassen sich von professionellen Tänzern ähnliche Figuren reproduzieren, aber es wird nicht die gleiche sein. Irgendetwas ist immer anders. Die Fotografie erlaubt es nun diesen Moment einzufrieren. Nun kann der Betrachter diesen Augenblick aufnehmen und in Ruhe betrachten.
A short English version (and not perfect possibly):
Every moment is unique und it's not repeatible. Therefore photography is my passion: Being able to capture the moment. 

That is the reason why dance and photography fit perfectly together. Because every part of a dance is unique. Of course the figures are repeatable but they will not be the same, only similar. Photography is able to keep the blink of an eye, to take these moments and provide it for studying this moment of life conviniently. 
---